Our state-of-the-art lens manufacturing laboratory is located in St. Petersburg, Florida, which has been in operation since 1968.
At SeaVision we custom grind prescription lenses. This allows divers, snorkelers, and swimmers to experience the same great vision underwater as on land.
We DO NOT glue or bond lenses into your mask or swim goggles. The prescription is custom made in our laboratory, just the way your eye doctor prescribed.
We will manufacture high-quality CR39 lenses specifically for your prescription masks or goggles. These lenses are stronger and more efficient than glass and will help you see everything you want to see underwater.
Custom Single Vision Lenses
SeaVision Custom Single Vision lenses corrects for nearsightedness (myopia) or farsightedness (hyperopia), either of which may include astigmatism.
These lenses have the same focal power throughout the entire lens - from top to bottom, and is not a simple drop-in lens.
As the name alludes, the SeaVision Custom Single Vision lenses are made to your exact prescription, provided by your optometrist.
SeaVision Custom Single Vision lenses are available in all SeaVision Masks: Standard Clear, Color Correcting, or MaxVision filters.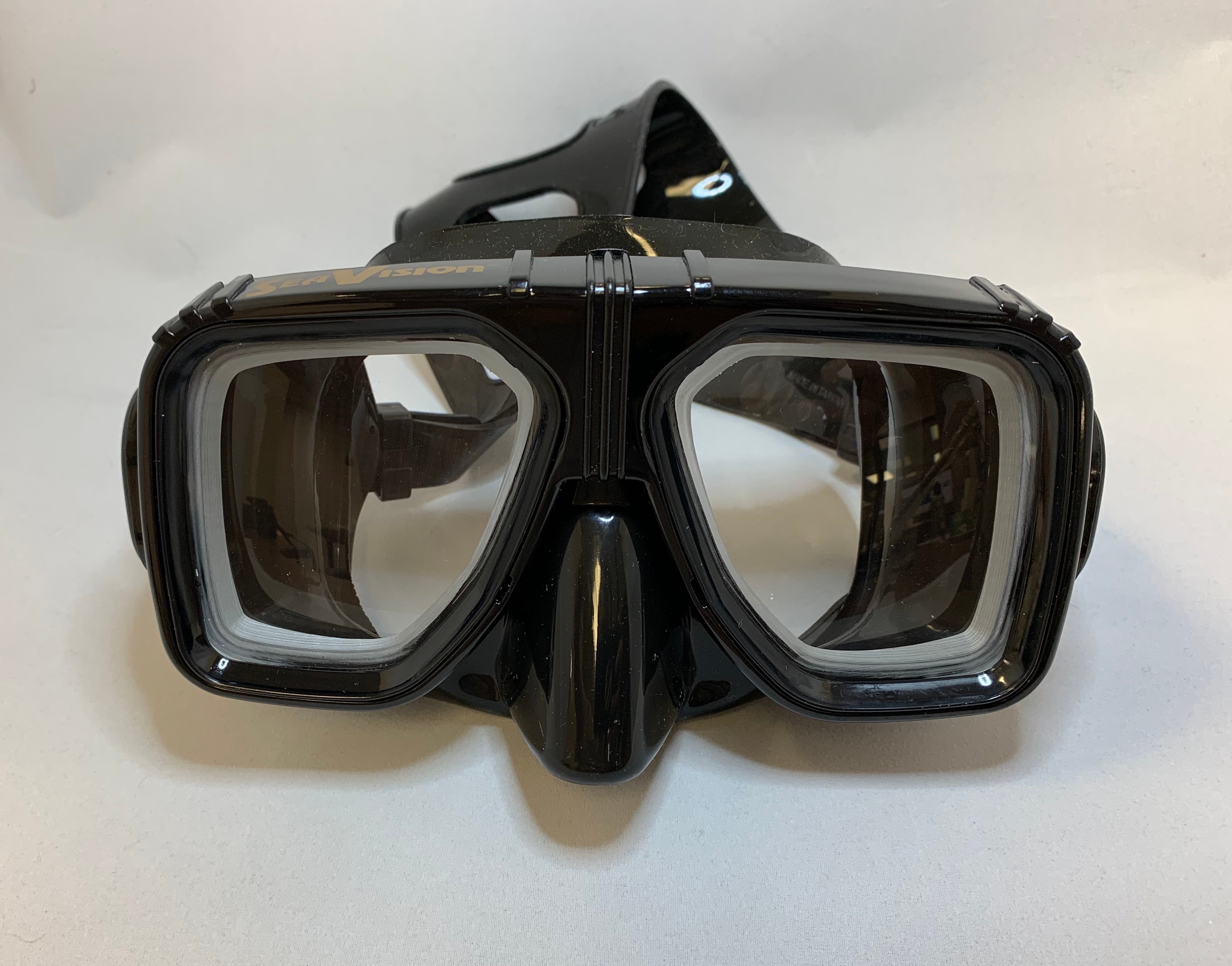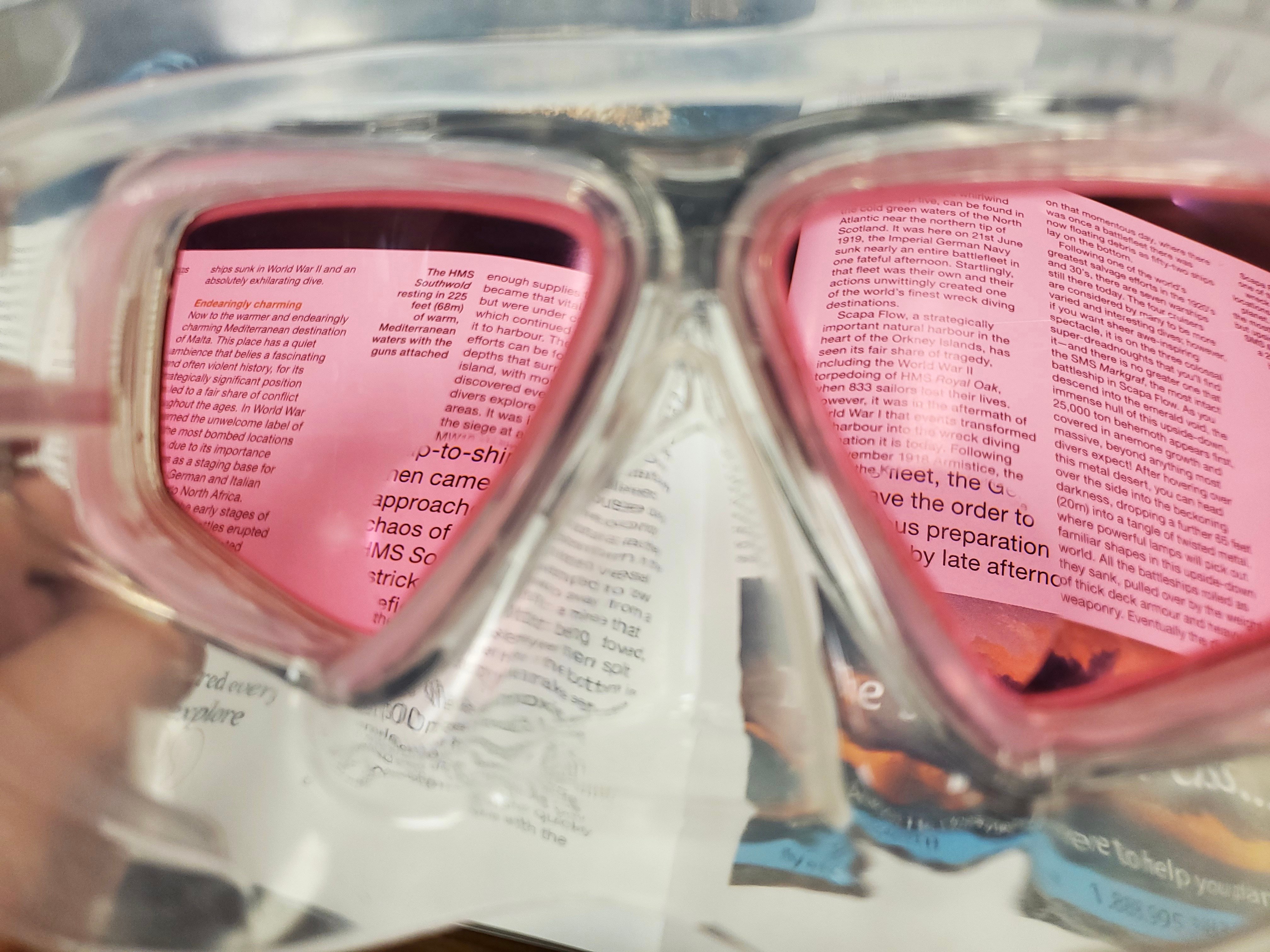 SeaVision Custom Bifocal lenses are designed for people having difficulties seeing their dive computer AND seeing in the distance, which may include astigmatism.
If your prescription has an add power or you normally wear bifocals/progressives, then these lenses are the perfect choice for your dive.
The bifocal is placed near the nasal portion of the mask, providing optimal viewing of close objects when diving.
SeaVision Custom Bifocal lenses are available in all SeaVision Masks: Standard Clear, Color Correcting, or MaxVision filters.
Gauge Reader +2.00 Lenses
The SeaVision Gauge Reader lens option is a non-prescriptive bifocal lens with a +2.00 power designed for the diver who has difficulty seeing up close objects, such as your watch or dive computer.
SeaVision Gauge Reader lenses are available in all SeaVision Masks: Standard Clear, Color Correcting, or MaxVision filters.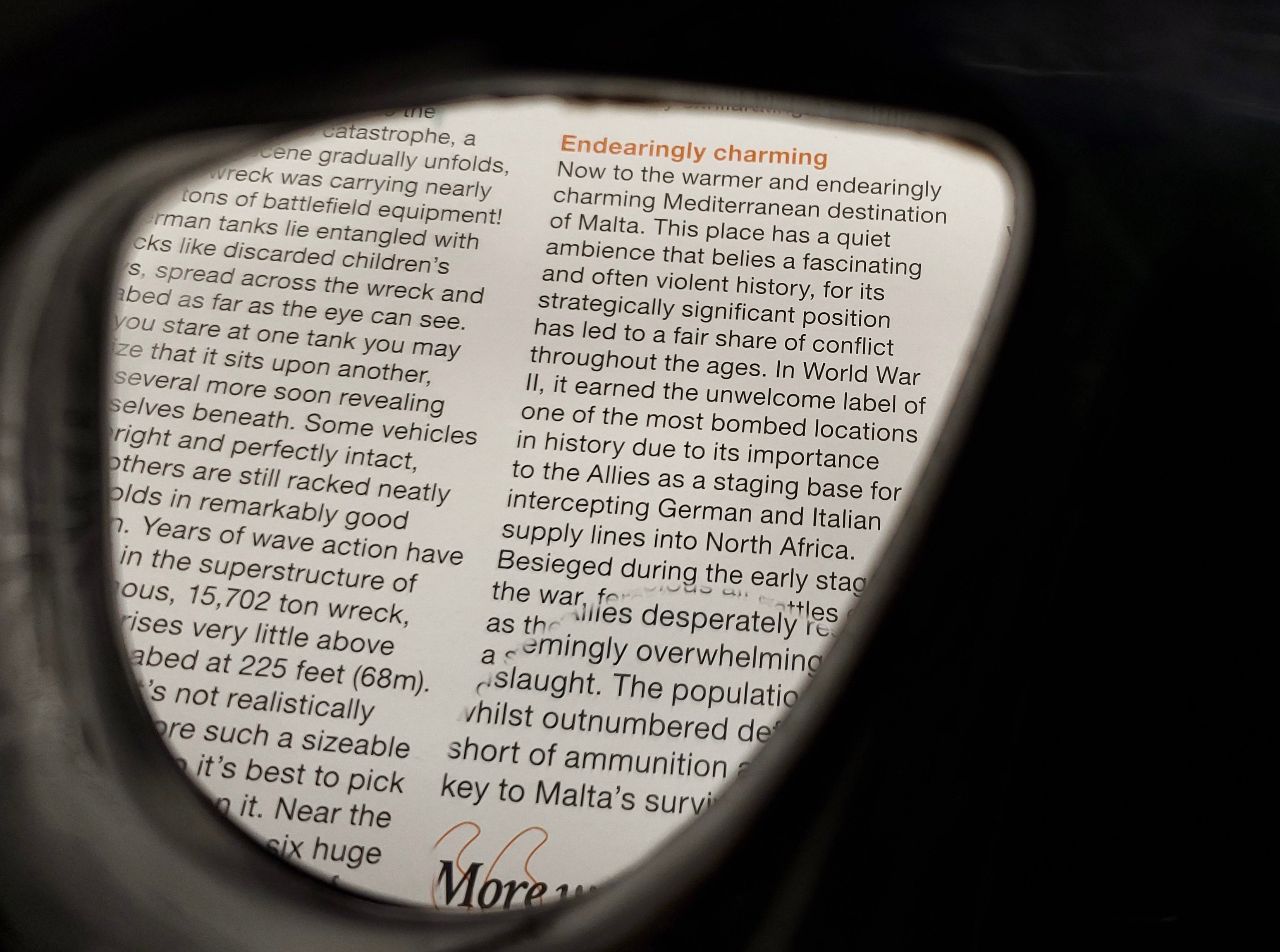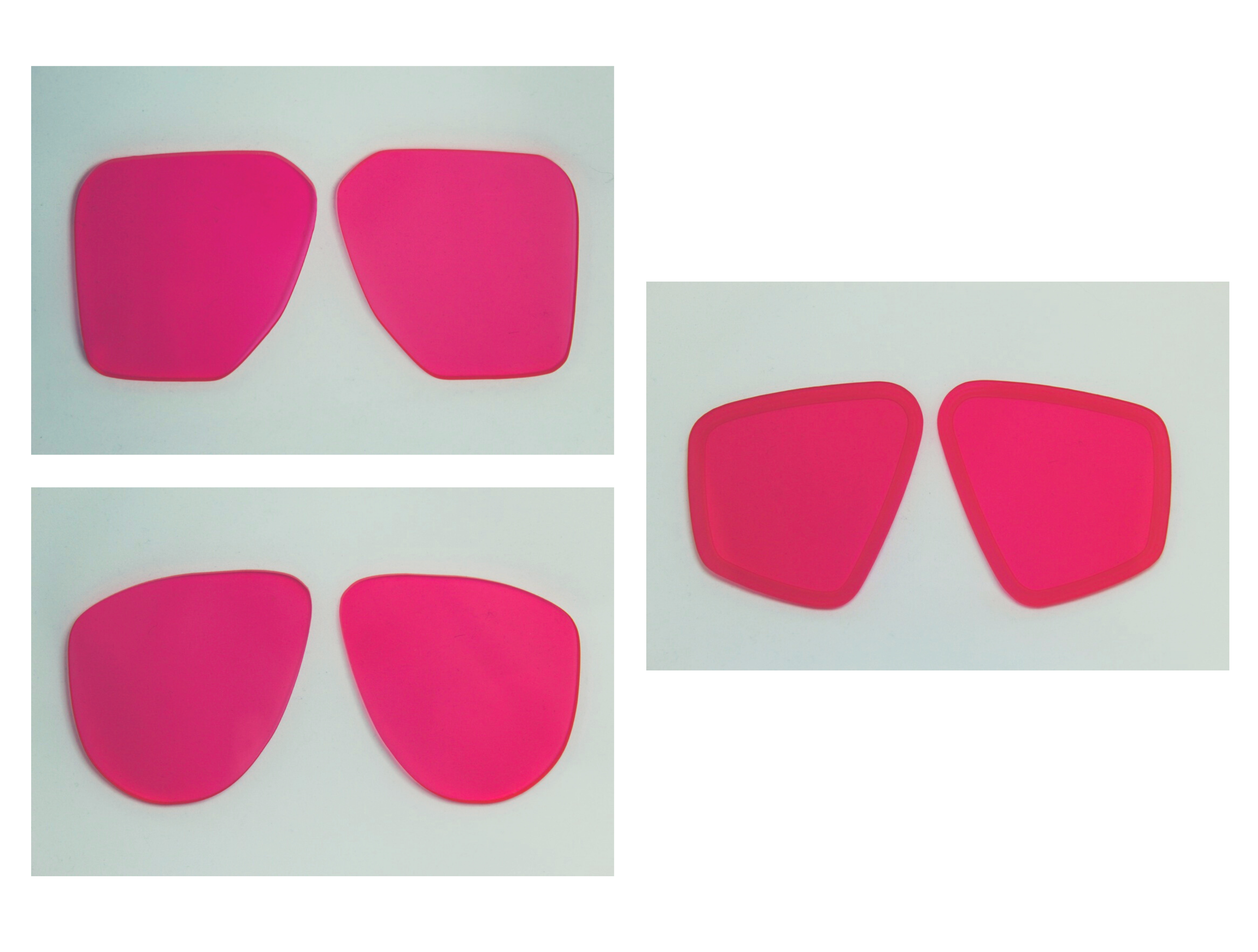 SeaVision Color Correcting (magenta) lenses were designed and created to be used in waters where there are more rich and vibrant colors to see. This unique, and patented, product is designed to filter out blue wavelengths in the water which allows your eyes to see the brilliant reds, oranges, yellows, and green colors that are normally lost as a diver descends.
For example, at a depth of 25 ft, red is no longer visible to the naked eye and at 75 ft, yellow looks greenish-blue because the yellow light has been absorbed by the water.
The SeaVision technology engineered in the SeaVision Color Correcting lenses adjusts the color bands to allow users to actually see and enjoy the colors in front of them at lower depths.
SeaVision MaxVision (yellow) lenses were designed as an alternative to our Color Correcting lenses.
The MaxVision lenses are to be used in low-light situations such as lakes, quarries, caves, rivers, and night dives. These lenses are also helpful when diving in cloudy or murky waters, which could be in oceans as well as lakes or rivers.
Our MaxVision lenses help to optimize available light and help sharpen vision at the same time. This color helps increase contrast and depth perception in environments and conditions where normal light is diffused.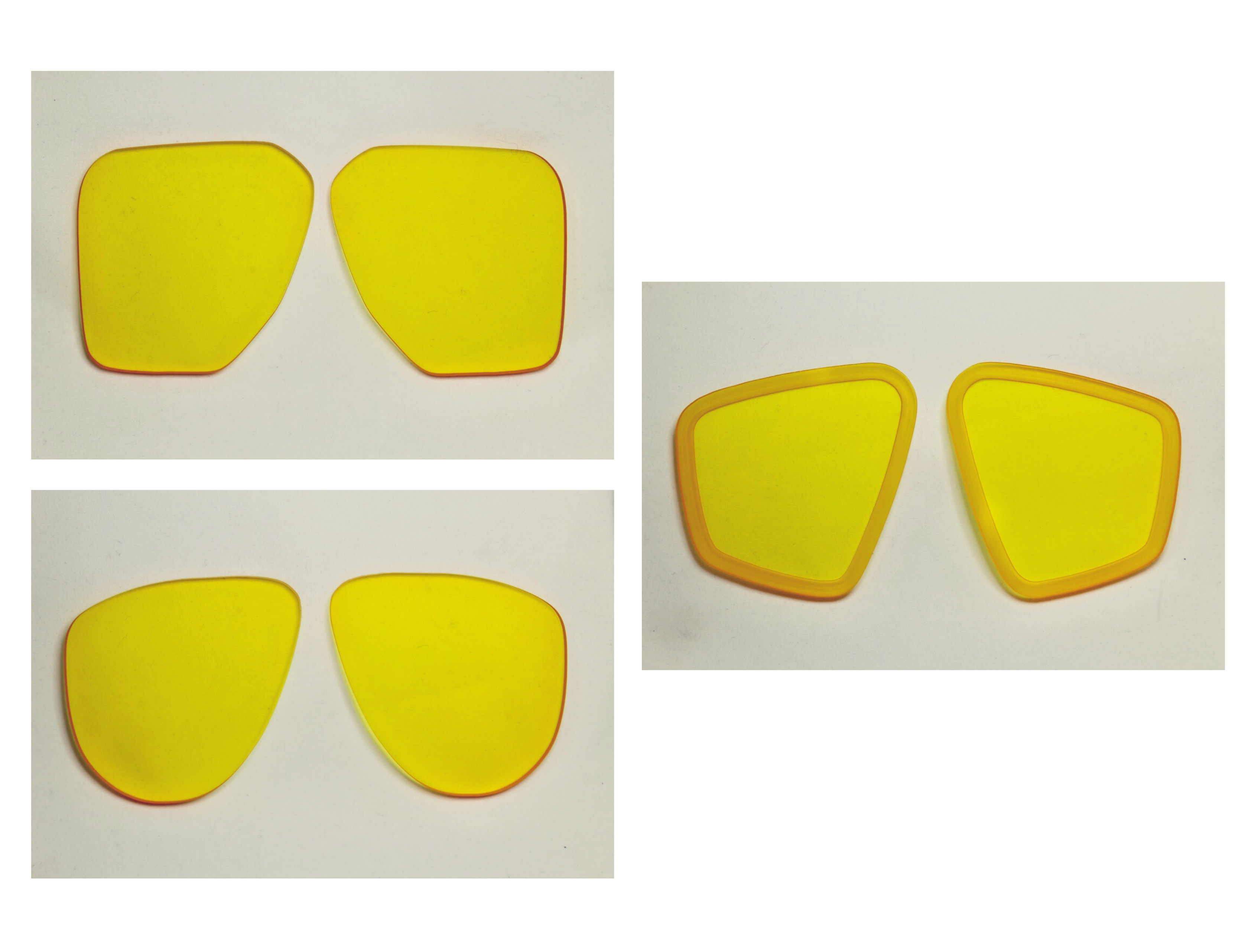 SeaVision SwimVision 2 Goggles are ideal for those who wear prescription eyeglasses and may find themselves needing to see while swimming in the pool, lake, or ocean.
Similar to our high-quality dive masks, your goggle lenses will be custom made with your vision prescription, even for astigmatism, in our state-of-the-art laboratory. We use the same material eyeglass lenses are made of which are more durable and clearer than glass.
Enjoy clearer vision while swimming and avoidance of possible hazards by wearing SeaVision SwimVision 2 Goggles which help protect your eyes against strong pool chemicals, harsh minerals, and bacteria that may be found in the body of water where you swim.
Ditch the risky and irritating contact lens option and get your prescription swim goggles today.